Guided by our purpose and values, OCBC Bank sees it as our mission to help individuals and businesses across communities achieve their aspirations by providing innovative financial services that meet their needs. We are guided by our core values: Lasting Value, Integrity, Forward Looking, Respect and Responsibility. We believe that putting our purpose and values at the heart of everything we do will lead to good business outcomes.
Moving from funding coal power plants to sustainable finance
As Southeast Asia's second-largest financial institution, we have been at the forefront of various efforts that support climate action. We were the first bank in Southeast Asia to make a bold commitment to stop financing new coal-fired power plants on 16 April 2019. This created a positive momentum – Singapore's two other local banks, which are key regional players, made the same commitment within the same month.
This commitment was the catalyst of a renewed green push and expedited our efforts to play a leading role in Asian sustainable finance to accelerate change. In October 2019, shortly after committing to not financing new coal-fired power plants, OCBC Bank became one of the first banks in the region to make a public commitment to build a sustainable finance portfolio worth S$10 billion (US$7 billion) by 2022.
We eventually surpassed this target two years ahead of schedule in the first quarter of 2020. A new sustainable finance target of S$25 billion by 2025 was set and again eclipsed ahead of schedule – we had achieved S$34 billion in sustainable finance commitments by the end of 2021. In February 2022, we doubled our 2025 target to S$50 billion. As of end-2022, our sustainable finance portfolio had grown to S$44 billion. We have funded sustainable projects in the region, from wind and solar farms to electric cars, hybrid buses and solar panel installations.
Apart from our sustainable finance portfolio, we have also achieved our goal of carbon-neutral banking operations in 2022, having invested more than S$25 million in decarbonisation efforts in Singapore, Malaysia and Greater China. We have also become a signatory to the United Nations-convened, industry-led Net-Zero Banking Alliance, and will be announcing our sectoral financed emission targets in the first half of 2023 as part of our commitments to the Alliance.
Weaving sustainability into its strategy
Our commitment to sustainability is formalised into our strategies – namely our corporate strategy to "Excel for Sustainable Growth," of which environmental sustainability is a key pillar, and our Climate Strategy, a five-year roadmap with three priorities: moving towards net-zero emissions in alignment with Paris Agreement goals, expanding sustainable financing and the bank's sustainability-themed product portfolio, as well as growing a bank-wide ecosystem of sustainable solutions and partnerships.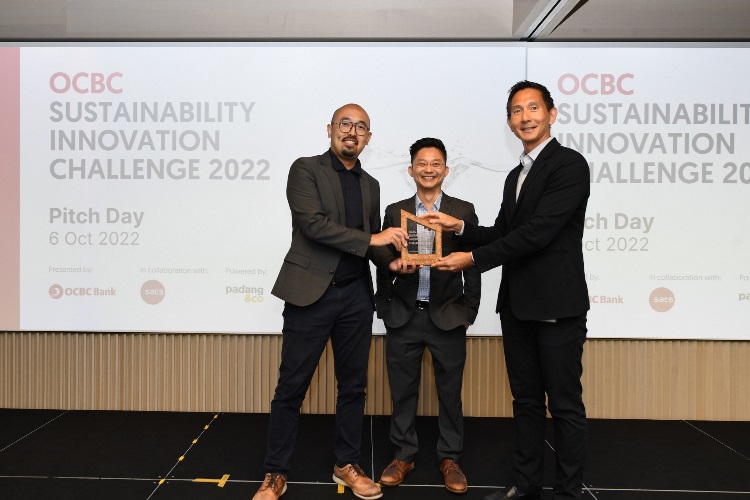 OCBC Sustainability Innovation Challenge, October 2022. (L-R) Lin Qing Yao, Close-The-Loop Manager, Tria; Bryan Sim, Sales Director, Tria; and Spencer Low, Chief Data and Sustainability Officer at SATS
A recent initiative we introduced under the Climate Strategy was the OCBC Sustainability Innovation Challenge, launched in June 2022 to identify sustainability-related challenges faced by our corporate customers and source for global solutions that can be commercialised.

Under the #OCBCCares programme, the bank supports the OCBC Arboretum, a landmark project at the Singapore Botanic Gardens that conserves and studies 200 species of dipterocarp trees. Photo credit: National Parks Board
The financial industry may be competitive and ever-changing, but OCBC Bank will always make it an imperative to be a responsible banker to society and remain resolute in our commitment to sustainability and climate action, so that we can do well and do good.

Posted 10 March 2023
Sign Up
for free to continue reading