As the Covid-19 pandemic ensued, Ayala acted as a catalyst that allowed the emergence of several impact initiatives by its subsidiaries and projects in cooperation with external peers. AC Health, the Ayala Group's healthcare arm, played a critical role. Since August 2022, Ayala has deployed over 24 billion Philippine pesos (US$480 million) for this holistic Covid-19 response.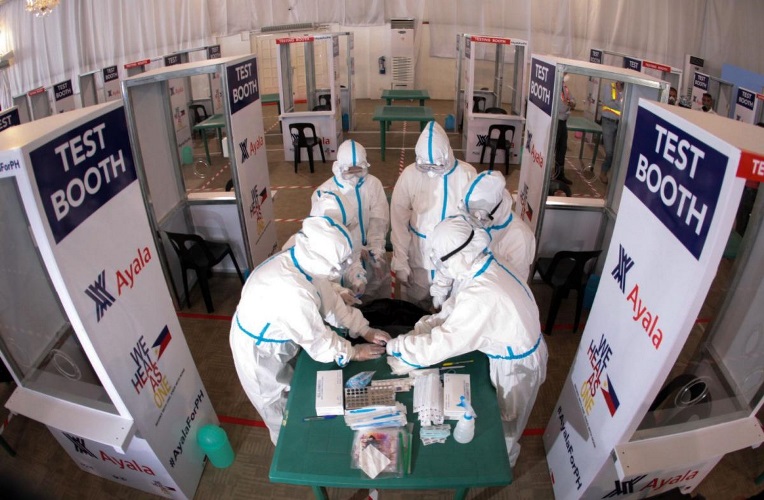 Swabbing booths at Palacio de Manila
When the pandemic was declared and the Philippines went into lockdown, Ayala's response covered three priorities:
The first phase was to protect employees, ensuring they were financially secure and healthy. An emergency response package was released that covered wage continuance, leave conversions and loan deferments to direct employees. Dedicated medical facilities were built where infected employees and their families could recover. Stipends were provided to partners on daily wage, "no work, no pay" arrangements – including 70,000 construction workers and some employees of agency providers – to help them ride out the lockdown.
The second phase was to support Ayala's economic ecosystem of customers, suppliers and partners. Mall tenants were given rent reprieves, and Ayala's bank and utility companies provided loans and payment deferments. The Ayala Enterprise Circle was also established to help more than 250,000 small and medium enterprises (SMEs) get upskilling support and easier access to relevant products and services. These SMEs were partners or clients of Ayala.
The third phase was to bridge the community's needs at large. Ayala became part of several initiatives with private sector peers and the government. Ayala was one of the catalysts behind Project Ugnayan, a private-sector partnership between 270 firms that provided emergency food packages, grocery vouchers and medical assistance to 2.8 million economically vulnerable families, or 14 million individuals. Ayala was also part of Task Force T3 (Test, Trace, Treat), a government-private sector partnership that started as an initiative to expand testing capacity and personal protective equipment (PPE) supply. Task Force T3 eventually moved into data analytics, surveillance, contact tracing, healthcare worker recruitment, communications and became the National Vaccine Deployment Program.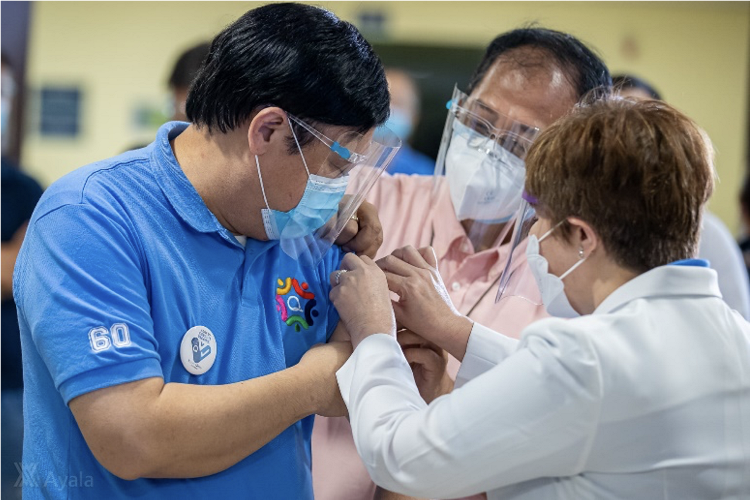 AC Health and the Philippine government collaborated to extend Covid-19 vaccination sites across the country
Across these three priorities, AC Health was a constant presence, leveraging its broad ecosystem to address gaps; provide quality, affordable, and accessible healthcare; and provide guidance and support to the Philippine government's National Task Force for Covid-19. In the earliest months of the crisis, AC Health led a consortium to build seven testing labs nationwide. Its clinics and hospitals became triage sites and Covid referral facilities. Its pharma arm was the first to bring into the Philippines Molnupiravir, an oral antiviral treatment for mild Covid-19. It also worked with sister company Globe Telecom to develop KonsultaMD, a telemedicine super app that enabled teleconsultations, medicine delivery, and eventually Covid vaccination scheduling.
Collaboration towards a common goal
When Covid vaccines arrived in 2021, AC Health collaborated with its sister companies to administer over 770,000 doses of Covid vaccines for the Ayala Group and other partner institutions and corporates. Vaccinations were held across over 30 Ayala Land facilities nationwide that were AC Health-managed. AC Analytics helped monitor case trends and provided data-informed guidance on on-site management and vaccination schedules. Through this synergistic approach, AC Health became one of the Philippines' largest private-sector vaccine administrators.
This collaborative and comprehensive approach allowed AC Health to reach a wide patient base while forging linkages with several corporate partners. This lets AC Health offer its range of healthcare services across pharma, clinics, hospitals and telemedicine to a larger post-pandemic market while helping improve patient outcomes and generating sustainable value for the company. Due to many other initiatives, AC Health continues to perform strongly and is moving towards profitability.
Building trust across institutions
While the holistic Covid-19 response is specific to the current pandemic, the partnership model and the trust established across institutions and stakeholders will continue. AC Health also emerged as a high-potential and high-growth enterprise for Ayala, given the gaps revealed by the pandemic.
The partnership model within Ayala, between private sector peers, and with the government, is already being applied to address other developmental challenges. With the new Philippine administration taking office, a private sector advisory council was established to help draft recommendations across priority areas of infrastructure, agriculture, job generation and healthcare, among others. AC Health currently leads the healthcare subcommittee, while Ayala Corporation actively participates in the job generation subcommittee.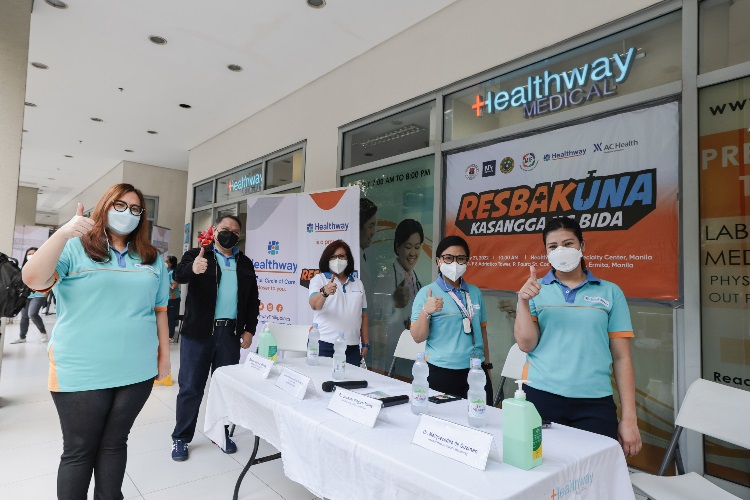 Healthway clinics participate in the National Government's in-clinic Covid-19 vaccination pilot programme
Meanwhile, Ayala continues to ramp up support for AC Health. The partnerships and rapport among private sector peers could contribute to the development of corporate healthcare services that AC Health may provide. The KonsultaMD superapp continues to touch a broader base of patients and doctors while expanding the reach of medicine delivery.
Additionally, as validation of Ayala's organisational purpose and healthcare strategy, in November 2021, AC Health received a US$100 million investment from the International Finance Corporation through the Philippines' first healthcare-focused Social Bond. The funds will finance the development of the first dedicated cancer hospital in the Philippines, expand AC Health's network of primary and multispecialty care clinics, and accelerate the roll-out of digital technology initiatives.


Ayala collectively launched various initiatives to help stakeholders amidst Covid-19 and other national emergencies

Posted 08 February 2023
Sign Up
for free to continue reading