Tata Consultancy Services (TCS)'s purpose and values are aligned with that of its parent, the Tata Group, and both entities collaborate closely with their customers on social and community initiatives. As a technology company, TCS is constantly revisiting how technology can better enable communities and how the company can help through technology. A holistic approach is taken towards sustainability and focuses on four issues:
Acceleration towards net zero
Influencing and enabling future generations
Partnering with customers for more sustainable outcomes
Empowering employees to lead the change
These values align with the four values of the Steward Leadership Compass© (interdependence, long-term view, ownership mentality, creative resilience), outlining TCS' stewardship purpose.
A four-horizon journey with an ecosystem-based approach is used to address the company's sustainability challenges:
Enterprise ecosystem: Enable businesses to be sustainable, agile and resilient while innovating sustainable products and services
Value chain ecosystem: Enable sustainable supply chains through collaborative industry ecosystems
Cross-industry ecosystem: Enable sustainable life experiences through multi-industry, cross-sector ecosystems
Cross-sector ecosystem: Nurture bio-regional economies that enable self-reliant, local communities
Improving digital access and literacy
TCS's community initiatives focus on improving digital access and literacy in communities, including seniors and underprivileged students. The progress and impact of these programmes are constantly tracked to ensure that targets are met. For instance, TCS' CareSeniors Programme has invested more than 6 million Singapore dollars (US$4.4 million) in senior care solutions. TCS also contributed more than S$40,000 worth of laptops and wi-fi connections to underprivileged students to relieve Covid-19 challenges, benefitting more than 150 students in Singapore.
In September 2022, TCS announced the launch of the Alliance for Community Empowerment, or ACE, along with its partner, the People's Association (PA). ACE aims to foster greater digital fluency and preparedness for underprivileged youths, families and the elderly in Singapore through curated digital programmes and initiatives, allowing them to be equipped with the right skills and knowledge to thrive in an increasingly digitalised world.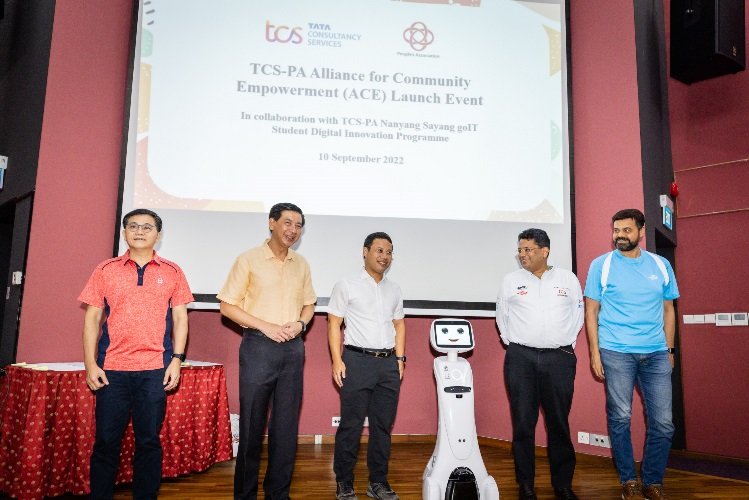 Launch of TCS-PA ACE
Leveraging TCS' deep expertise in technology and digital innovation and PA's extensive grassroots network, ACE will empower communities through two core pillars – education, which focuses on upskilling and reskilling, and innovation, which involves collaborative partnerships and collective ideation between TCS and government agencies to co-create solutions for local community challenges.
One of the anchor initiatives powered by ACE is the TCS-PA Nanyang Sayang goIT programme. goIT is one of TCS' corporate social responsibility flagship programmes, implemented in more than 150 cities and impacting more than 100,000 students worldwide since 2009. It is a student engagement digital innovation programme which teaches design thinking skills to students from underrepresented groups and applies a human-centric tech approach to solve real-world problems.
Under this initiative, which was held at Nanyang Community Club, TCS professionals conducted pro-bono workshops with mentors from the Nanyang Youth Network. These mentors, comprising junior college and university students, were taught skills such as design thinking and User Interface/User Experience, which they then imparted to seven- to fourteen-year-olds from low-income households. Moving forward, TCS-PA ACE will continue to expand the goIT programme to other divisions in the West Coast district, with plans to reach at least 70 student mentees by March 2023.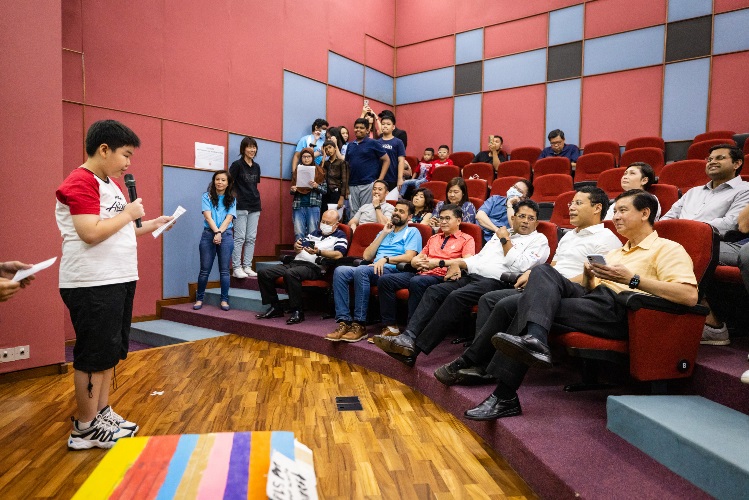 A mentee speaking at the launch of TCS-PA ACE
All initiatives under ACE are fully enabled by the TCS-PA Empowerment Fund, established in 2020 to alleviate Covid-19's impact on vulnerable communities. A total of close to S$70,000 was raised through an employee donation drive, matched dollar-for-dollar by TCS. Plans are also underway to introduce the goIT programme and anti-scam workshops to other constituencies around Singapore from 2023.
Over the past six years, TCS has made consistent and significant efforts to support local communities through different technology-focused initiatives. To date, the company has completed numerous milestone projects with PA that have benefitted more than 500,000 residents in Singapore. The total commercial value of these projects is estimated at more than 13,000 hours or S$550,000. The co-creation of ACE marks a further commitment by both organisations to make further strides in their partnership and provide targeted assistance to more communities.
Building on the core purpose
Organisations and businesses can be catalysts for change. To this end, TCS's core purpose is to connect people to opportunities in the digital economy, a mission central to how it operates as a business. Through innovation, partnership and collective knowledge, TCS believes it can lead positive change for all stakeholders. The company's deep understanding of digital transformation, technology, and its application helps to create a strong foundation for developing solutions to some of the world's most pressing problems at scale.
As the world continues to evolve rapidly, TCS will double down on its engagement model of leveraging the organisation's intellectual, technology, financial and human capital to impact the communities where it operates exponentially.
Posted 03 February 2023
Sign Up
for free to continue reading