The global business landscape is fast changing. The shocks caused by the COVID-19 pandemic have not only disrupted millions of lives but also awakened political and business leaders to the fact that the health of our planet, people and economies is interdependent and interconnected. In fact, 2020 was a watershed year for climate action as ESG exploded into the mainstream, with the global Race to Zero campaign successfully rallying leadership and support from multi-stakeholders across borders and sectors to transition to a low-carbon economy. Today, participating countries, cities, investors and organisations of the Race to Zero campaign have hit 91% of global GDP.[1] This new dawn for sustainability and increased collective action bodes well for our planet, and our future.
With ESG becoming a priority in both political and business arenas, governments worldwide have introduced stricter regulatory requirements for climate reporting. Sustainable finance has gained significant momentum and managing climate and ESG have become core to businesses. According to the Climate Bonds Initiative, sustainability-themed debt rose to almost US$1.1 trillion in 2021, a 57% increase from 2020. The next milestone for green finance is set for an annual US$5 trillion by 2025.[2] The heightened investor and consumer activism towards climate change has an immediate impact on businesses. Companies that refuse to acknowledge that climate and social risks are business and investment risks may lose funding from banks and investors in the long run.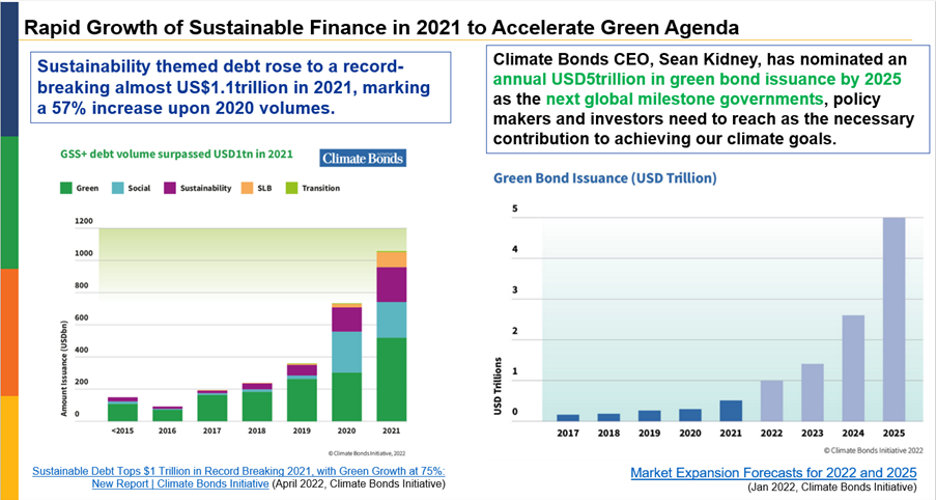 A company with a firm conviction of maintaining business growth, not at the expense of the planet and people, will build resilience. We have seen evidence of this at CDL. Founded on our corporate ethos of "Conserving as We Construct" since 1995, CDL's value creation business model is anchored on four strategic pillars – Integration, Innovation, Investment and Impact. These pillars have provided us with a foundation to mitigate and adapt to unprecedented threats and challenges. Our ESG-centric strategy and track record have enabled us to achieve three deliverables: "Decarbonisation," "Disclosure and Communication," and "Digitalisation and Innovation."
Additionally, CDL's embrace of the UN Sustainable Developments Goals (SDGs) since 2016 has helped to provide a clear direction for our business stewardship to complement global goals, future-proofing our sustainability-centric business strategy and operations.
The following outlines how CDL integrates sustainability into its corporate culture, business strategy and operations based on its four strategic pillars.
Integration: Embracing Sustainability into Corporate Culture, Business Strategy and Operations

For ESG to be effectively integrated into a company's business strategy and culture, silos across all operational units and levels of employees must be broken down. This will not be possible without strong leadership commitment and collaboration among all staff towards achieving ESG priorities.

Since 2012, CDL's sustainability function has received direct board supervision and guidance. The portfolio led by the Chief Sustainability Officer has been empowered to remain independent in setting goals and tracking performance while at the same time staying fully integrated into the company's strategy and operations – vertically from the top to all levels of operations, and horizontally across all business units and value chain.

The leadership spearheaded by CDL's Board Sustainability Committee (BSC) has been critical in integrating sustainability into our corporate culture and business, delivering CDL's consistent and strong ESG performance and adding business and economic value to the company. The BSC, comprising three independent directors and the Group CEO, provides strategic advisory and mandates to engage all staff to support our sustainability efforts and best practices.

Over the years, the Board's guidance has been key in driving our management to improve sustainability performance, such as linking executive remuneration with ESG performance. This increases accountability and encourages greater ownership of our sustainability goals.

Innovation: Applying technologies and solutions to complement best practices

The road to net zero will not be possible without disruptive solutions. To future-proof business and operational performance in the long run, the use of innovation can expand beyond technological application to include best practices and policies. This includes transforming key processes across the enterprise. As part of an ESG strategy, a long-term vision and goal setting are important, but without effective execution, these will not achieve the desired impact. Innovations complemented by practices and action are key to turning ambitions into reality to ensure long-term value creation.

CDL's Green Building Technology Application function was established in 2020, to focus on leveraging cutting-edge technology to reduce our carbon footprint by enhancing the way we design, build, and manage our assets. To be future fit, CDL has been actively investing in PropTech venture capital funds, such as Fifth Wall and Taronga Ventures, as well as start-ups with good potential. We also actively explore and develop PropTech solutions in-house, such as digiHUB, a digital platform developed by CBM Pte Ltd, CDL's wholly owned subsidiary and a leading facility management company in Singapore.

Sustainability-driven innovation goes beyond technology application. It also entails improving business operations and processes to become more efficient, while insulating the business from potential climate-related risks. Complementing CDL's target to achieve net zero for its buildings by 2030, CDL established a new Smart, Sustainable and Super Low Energy (3S) Green Building Framework. This is an expansion of CDL's green building and sustainable procurement guidelines, representing a holistic framework aligned with the BCA Super Low Energy (SLE) building requirements, as well as international standards for advancing health and well-being in buildings. In 2021, we updated the 3S Green Building Framework to include embodied carbon management in alignment with the expanded World Green Building Council (WGBC)'s Net Zero Carbon Commitment.

Investment: Mobilising capital to accelerate action

With green technology, innovation and sustainability skillsets recognised as essential tools needed for the transition towards a greener future, companies will have to acquire the right resources and capital. CDL's consistent ESG track record over the past three decades has won the trust of investors and financiers, granting CDL greater access to fast-growing ESG funds and sustainable finance. These resources, in turn, enable CDL to accelerate greater climate and green building action. The company's long-term investment in human and sustainable financial capital has enabled CDL to be future-ready for evolving and greater challenges in the ongoing fight against climate change.

Since issuing the first green bond by a Singapore company in 2017, CDL has amassed more than S$3 billion of sustainable finance, including green loans, a green revolving credit facility and a sustainability-linked loan. The first-of-its-kind SDG Innovation Loan initiated by CDL in 2019 managed to channel funds to accelerate innovation, while securing a discount from lender DBS Bank Ltd. for our successful R&D and pilot of digiHUB. In April 2021, CDL's joint venture (JV) company, South Beach Consortium, secured a five-year green loan totalling S$1.22 billion – one of Singapore's largest green loans to date.

In line with transitioning towards a net-zero future, innovative technologies help businesses to mitigate their environment and social impact through adaptation. As technological applications require significant financial commitment and investment, it is imperative that businesses shift from a traditional compliance mindset towards a more proactive strategic approach to manage ESG challenges.

Impact: Tracking ESG performance against goals to improve outcomes

Companies cannot manage sustainability without measuring their operational impact. Those that track and report their sustainability performance promptly and effectively against their set targets are better equipped to identify gaps for improvement and mitigate risks for sustained growth.

Since 2008, CDL has benefitted from the hands-on experience of producing 15 sustainability reports to-date. Using a unique blended reporting model, harmonising key and relevant international reporting frameworks, standards, and approaches with the GRI Standards at its core, we have been able to identify material issues, set targets, track performance and improve deliverables. This has enabled our management to take strategic and prompt action to improve, generate significant positive impacts and future-proof our business. Our long-standing reporting practices have proven effective – CDL has communicated robust and comparable data and information to enable our stakeholders including investors and financiers to make informed decisions.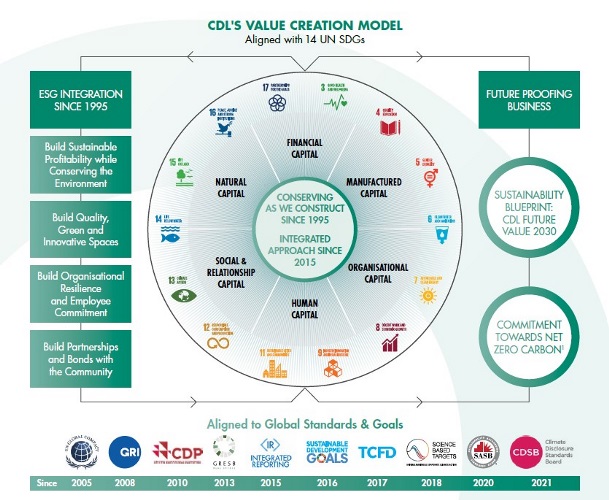 CDL's Value Creation Model, a unique blended reporting model that harmonises key and relevant international reporting framework, standards and approaches.
Building capacity, knowledge and partnerships towards a low carbon future
Jointly launched by CDL and the Sustainable Energy Association of Singapore (SEAS), the SSA is Singapore's first major People, Public and Private (3P) ground-up initiative in support of global SDGs and national goals to tackle climate change. A zero-energy facility, the SSA aims to be a major training and networking facility on sustainability dedicated to action and advocacy, capacity building, knowledge and resource sharing, community engagement and partnership. The implementation of the SSA demonstrated strong and extensive partnership with 6 government agencies and 15 founding industry and NGO partners comprising architects, engineers, consultants, contractors, suppliers and other value-chain partners.
Consistent thought leadership and advocacy efforts are key in advancing quality resource and solutions sharing amongst sustainability stakeholders. The SSA is a hallmark of CDL's community engagement and Singapore's leading sustainability knowledge and networking hub for industry leaders and government agencies such as the Jane Goodall Institute (Singapore), Global Compact Network Singapore, Singapore Exchange and CDP. Beyond advancing thought leadership, the SSA contributes to professional capacity building through education, training and mentorship.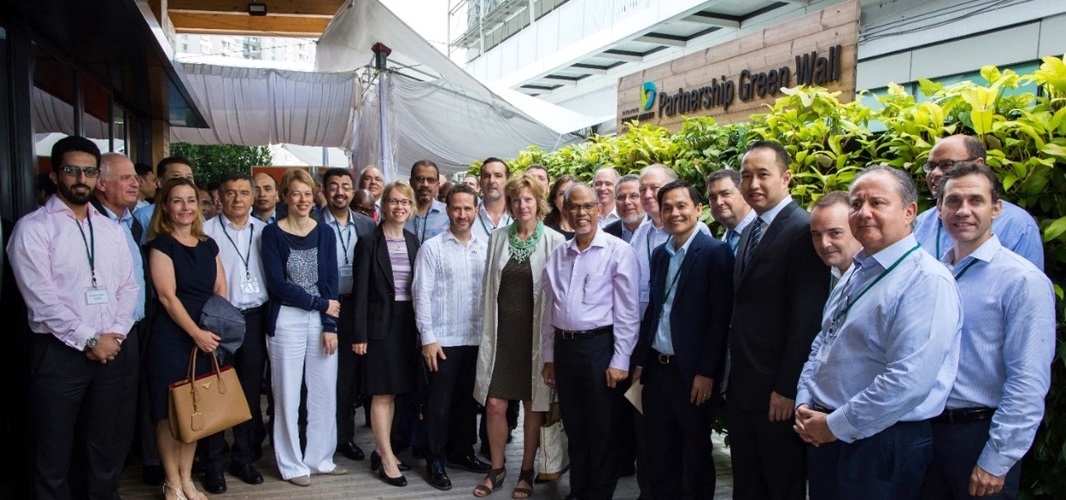 Launch of singapore's year of climate action 2018

CDL-GCNS Young SDG Leaders Award Briefing 2020
Commit to community engagement and empowerment
In the global race to zero today, it is the art of engaging stakeholders and changing the mindsets and behaviours of the community that is the most challenging. No action is too small; no single entity can save the world alone. Governments, companies and industries should leverage existing and future partnerships to generate a multiplier effect to amplify social impact. Empowering and engaging the local and global community has been fundamental in CDL's sustainability journey. While the company continues to spearhead and drive community-centric initiatives to share sustainability knowledge and experience, we can do more. To build a sustainable eco-system within our communities, we must collectively push the boundaries of stakeholder engagement, community outreach, training and capacity building for sustainability professionals in Singapore and beyond.
[1] Net Zero Climate: Progress Tracking
[2] Climate Bonds Initiative: Sustainable Debt Tops $1 Trillion in Record Breaking 2021, with Green Growth at 75%: New Report (April 2022)
Posted 02 February 2023
Sign Up
for free to continue reading